Their expert focus on payroll allows clients to focus on their businesses

(Cherry Hill, NJ) - USA Payroll of Cherry Hill, NJ, a provider of electronic payroll, tax, human resources and time and attendance solutions to businesses of all sizes in the Greater Philadelphia region and across the United States, is celebrating its 25th anniversary this year.

The company was founded in 1996 by husband-and-wife team, Mary VanWyk-Fiannaca and Frank Fiannaca on the back porch of their Westmont, New Jersey home. Since then, as the business and its services expanded, the Fiannacas have outgrown their office space and relocated the company five times. Today, as always, USA Payroll professionals combine the latest in business technology with exceptional, personalized service. The average tenure for USA Payroll employees is 10 years and their client retention rate is 90-95 percent, with a steady growth rate of 10-15% annually.

Mary VanWyk-Fiannaca added, "We are very grateful for our dedicated staff, our loyal clients, and our committed accountants and business associates." She continued, "We could not have made it to 25 years in business without them. Our focus remains on giving our clients peace of mind when it comes to payroll, so they can focus on running their businesses."

Since the onset of the COVID-19 pandemic, USA Payroll has been extremely proactive in following all necessary health and safety protocols to keep its employees and clients safe, while maintaining "business as usual for its clients."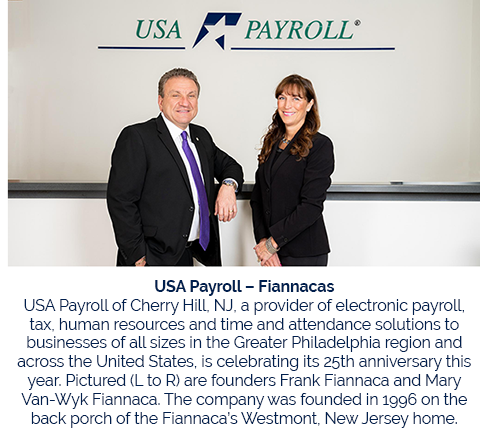 "USA Payroll is a testament to what happens when you surround yourself with good, honest people," added Frank Fiannaca. "Loyal employees are a formula that leads to loyal customers. In fact, our first employee, Maryann Geissler, still works for us and continues to work with our very first client." The advancements in technology, opportunities in payroll, and the business world in general are quite different from when she started 25 years ago, but for Geissler, one thing remains the same. She notes, "Working with a team of dedicated and forward-thinking professionals in this evolving field has been a wonderful learning experience for me. Though the payroll business can be demanding, Mary and Frank have helped make it an interesting and successful journey for all of us."

USA Payroll prides itself on being a family-oriented company that provides outstanding customer service. This has enabled the company to maintain its employees with little turnover. Dave Yarnall, the company's CFO, noted that "The company utilizes the most up-to-date technology to ensure that all information is safe and secure from unauthorized users. We conduct multiple audits to verify that our processes and procedures meet or exceed all security and banking standards."

USA Payroll is a member of the Independent Payroll Providers Association and the American Payroll Association. In addition, the company is SSAE 16 certified and is compliant with all EFTPS regulations.

About USA Payroll
USA Payroll was founded in 1996 by Mary VanWyk-Fiannaca and Frank Fiannaca with the goal of offering unsurpassed personalized service with cutting edge technology. Headquartered in Cherry Hill, New Jersey, USA Payroll serves the Philadelphia/NJ marketplace with national capability.

Over the past 25 years, USA Payroll has expanded to offer a wide range of electronic payroll, human resource, tax and time and attendance solutions to small and large businesses, treating each client according to their individual needs, with a customized approach tailored to each client. To learn more visit http://www.usapayrollnj.com.